ADDRESS: 137, Canning Street, Kolkata - 700001
| | |
| --- | --- |
| Phone : + 033 - 2243 - 1198 / 3363 | MOBILE : + 91 98300 42037 |
About C L Shah & Company
Brief History :
In 1939, J.C.Kapur (the founder), a visionary with rare business acumen, left his native town of Hafizabad in district Gujranwala (now in Pakistan), to trade at Lahore, in Beltings of various types including Camel Hair, Cotton, and Rubber Belting, and other mill store items, which he procured from Calcutta. The second born amongst three brothers, he sought to diversify from the ancestral vocation of Zamindari and usury.
Genesis :
C.L.SHAH & COMPANY came into existence on 2nd July, 1946, when The Great Calcutta Killings were at their peak. J.C.Kapur, on one of his customary visits to Calcutta, acquired a showroom at 137, Canning Street, registered C.L.SHAH & COMPANY and subsequently went back to Lahore only to return after partition of the sub-continent into India and Pakistan in August, 1947 and started trading once again.
ABOUT THE FIRM
C.L.SHAH & COMPANY is a partnership firm comprising three partners: Mr. R.M.Chopra, Mr. Shiv.Chopra & Mr. R.K.Malhotra. The day-to-day activities of the firm are looked after by Mr. Shiv Chopra. The firmís bankers are CITIBANK N. A. and PUNJAB NATIONAL BANK. Adequate storage and warehousing facilities are readily available with the firm.

Today, C.L.SHAH & COMPANY is well entrenched in this mill store merchants market and has a very sound reputation of dealing in quality products and at the same time it is widely referred to as the fair price shop. This has been the forte of C.L.SHAH & COMPANY and the partners who belong to the same family are certainly living up to the reputation of the firm and improving upon the hallowed glory of its past.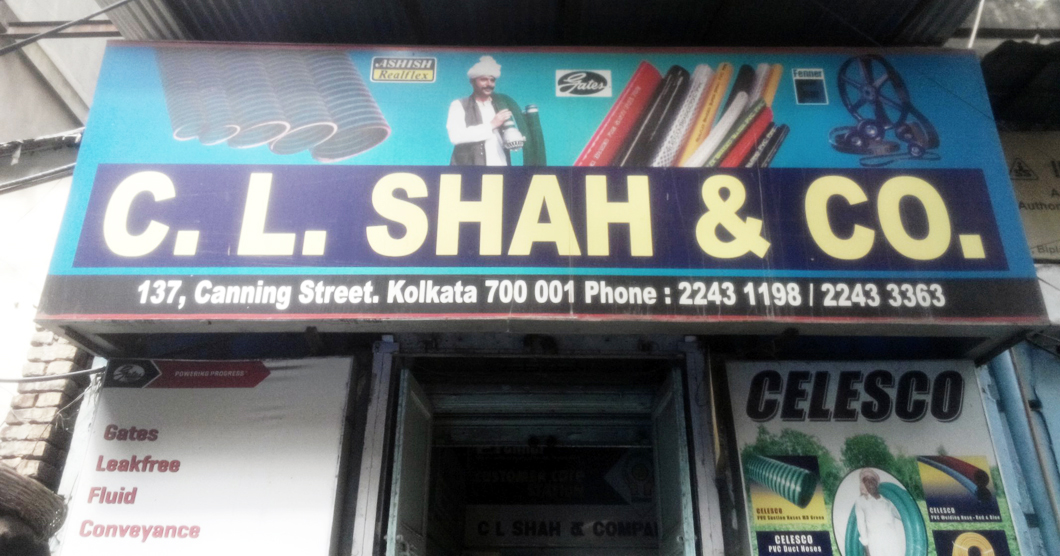 STOCKISTS
C.L.SHAH & COMPANY is stockist of a variety of Fire-Fighting Hoses, Canvas hoses, Hydraulic High Pressure Hoses, Low and Medium Pressure Hoses, Stainless Steel Metallic Hoses, Bellow Hoses, Wire Braided Teflon Hoses, Fuel Hoses, High Temperature Steam Hoses, and a large variety of hand built hoses of a host of companies and manufacturers.

Beltings of all varieties and types are stocked by this firm including V-Belts, Flat Transmission Belting, Poly-V Belts, Timing Belts, Variable Speed Belts, and High Speed Transmission Polyamide Sandwich Belting. A huge variety of specialized belting used in Jute Mills such as Lennox type Belting is also readily available here.
INTRODUCTION OF HOSE PIPES
Gradually, within a short span of time, hose pipes were introduced in this firm along with belting and other mill-store items which were already being sold. Since most of the hoses at that time, such as, Wire-Embedded suction hoses, Cotton-plied Delivery hoses, Mud hoses, Sand-Blasting hoses, Cement- Grouting hoses, Carbon-Free hoses, Food and Brewery hoses, Shot-Blasting hoses, oil and chemical hoses, Canvas hoses, Fire- fighting hoses etc., were being manufactured in Calcutta and its vicinity, C.L.SHAH & COMPANY became a major distribution centre of hose pipes made in Calcutta.


This material used to be distributed to the neighbouring states like Bihar, Orissa, Madhya Pradesh, the North-Eastern states etc. and also to far off places such as Madras, Bombay, Delhi, Nagpur and other markets.

Because of its ever-increasing Goodwill, quality consciousness, and customer service back-up, C.L.SHAH & COMPANY has earned for itself a place of pride in the trade of hoses and other mill-store items in Calcutta.
RELATIONSHIP WITH GATES
The Gates Rubber Company, U.S.A., is the world's most trusted name in Belts, Hoses and Hydraulics. It is a part of TOMKINS PLC which is a $20 Billion conglomerate. Gates India has very recently set up a plant at Lalru in District Patiala, Punjab, and is now manufacturing hoses in India.

C.L.SHAH & COMPANY has been the authorized dealer of Gates India ever since the latter's inception in India. Currently, this firm is the largest seller of industrial hose pipes manufactured by them, in eastern India, and is the largest stockist of the entire range of industrial hoses manufactured by them, in India.

Along with the industrial hoses manufactured by Gates, like Pneumatic Tool, Air/Water, Rock Drill, Steam, Megasteam, Washdown, Super Spray, Petrol Dispensing, Welding, Chemical, Sand Blast, Carbon Free Hose, this firm is
also market leader and stockist of the entire range of Hydraulic Hoses manufactured by the principals exceeding SAE-100-R-1, SAE- 100-R-2, etc. specifications. This firm is also a specialist in assembling hose fittings up to SAE-100-R-15 Specifications as per customers' requirements. Thus, today C.L.SHAH & COMPANY is indeed a one- stop solution shop for rubber hoses and it is by the dint of the efforts of this firm that Gates India has established a firm footing in Eastern India.
RELATIONSHIP WITH CELESCO
C.L.SHAH & COMPANY is currently the market leader in eastern India in selling PVC hose pipes of all varieties and sizes, manufactured under the brand name of CELESCO. CELESCO is a brand registered and owned by C L Shah & Company. These hoses are manufactured under strict quality control system which ensures consistent delivery of stable quality product at all time, from raw material, packaging material, semi-finished products to finished products. CELESCO brand nylon braided PVC hoses which are used for pneumatic, light duty rock drilling, and also welding purpose is the most sold brand in this part of the country.


CELESCO Duct hose gray, which is used in air pollution control equipment, as a vacuum outlet pipe is another product introduced by C.L.SHAH & COMPANY in Calcutta and its neighbouring areas. CELESCO medium duty green hoses, used for agricultural purposes and heavy duty gray hoses used for engineering and construction, along with non-toxic hose, white, used by dairy farms and food processing units were introduced by this firm in the region, and these brand is market leader in the respective products sold under its name, because of the aggressive marketing approach and fair price policy adopted by this company.
RELATIONSHIP WITH GOODYEAR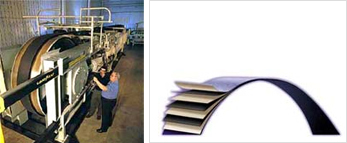 C.L.SHAH & COMPANY shares a very old relationship with GOODYEAR. The founder of this firm Mr. J.C. Kapur used to import Goodyear Rubber Belting from U.S.A. and would distribute the same in the sub- continent before its partition in 1947.

This firm has been the authorised dealer of M/s. GOODYEAR INDIA LIMITED since its inception and a very cordial relationship is shared with the principals. C.L.SHAH & COMPANY has been dealing in Rubber Belting, V-Belts and Link Belts made by M/s. GOODYEAR INDIA LIMITED and are market leaders for the same in Calcutta.


The firm has the privilege of being selected the first Industrial Rubber Products Showroom in India to be visited by the then Chairman-cum-Managing Director of M/s. GOODYEAR INDIA LIMITED, Mr. C.K.CHOO, alongwith the entire board of directors, in 1996. The Principals awarded a certificate of excellence and a prize for Retail Tire Selling Module, to Mr. S.R.CHOPRA, a partner, for his excellent performance in the Basic Dealer Retail business Management Course held at Calcutta in December 1996.
RELATIONSHIP WITH FENNER
C.L.SHAH & COMPANY is the Distributor for Entire East India, of the complete range of Timing Belts such as XL, L, H, XH and HTD belts such as 3M, 5M, 8M, 14M and other high torque and Extra Torque belts used for Heavy Duty synchronous applications, which are manufactured and marketed by FENNER in India.

This firm specializes is providing Power Transmission Solutions. Exceptionally Qualified Engineers of this organization provide the entire Drive Design as well as the components such as Pulleys and Belts, required to equip the drive. Every customer is provided a solution to his power transmission problems, and the whole package is sold to the customer to give them the best results by Power saving, no bearing breakage and optimum shaft load.


C.L. Shah & Company is the authorized dealer of FENNER INDIA LIMITED for FENNER POLY-F PLUS brand V-Belts, along with the entire assortment of Space Saver Wedge Belts manufactured by them such as SPA, SPB and SPC series and also the 8V series of wedge belts conforming to international standards.

This bond is over thirty years old and is still going strong. This firm also markets Engineering Products manufactured by FENNER such as Couplings, Shaft Mounted Speed Reducers etc.



At present, C.L.SHAH & COMPANY IS THE ONLY AUTHORISED DEALER OF FENNER INDIA LIMITED FOR CARRYING ON BUSINESS IN THE ENTIRE AREA OF CANNING STREET, IN CALCUTTA.
RELATIONSHIP WITH EASTERN BELTING & COTTON MILLS
C.L.SHAH & COMPANY is the authorized dealer of M/s. EASTERN BELTING AND COTTON MILLS PRIVATE LIMITED, manufacturers of SWAN and SWAN SUPER brand hairand nylon belting, based at Baidyabati, West Bengal.

The belting manufactured by them is being sold from this showroom since 1947. M/s. Eastern Belting and Cotton Mills Pvt. Ltd. are manufacturers of the best quality Hair and Nylon belting in India and are the largest manufacturers of the same.
RELATIONSHIP WITH KLIPCO
This firm is the authorised dealer of M/s. KLIPCO SALES PRIVATE LIMITED, manufacturing KLIPCO brand worm drive hose clamps, along with worm drivers made as per British Standards Specifications.

The entire range of worm drive hose clamps and worm drivers manufactured by them are being sold by this firm for many years now.
CELESCO CONVEYOR BELTS
C. L. Shah & Company manufactures CELESCO Conveyor Belts as per IS: 1891. The main Features and Benefits are revealed herein
Excellent fastener holding retention
High strength nylon fill cords enhance mechanical fastener holding ability and resist fastener pull-out for reliable performance and increased uptime.
Excellent rip, tear and impact resistance
Specially designed crimped warp cords straighten on impact and then recover their original shape. This enables the fabric to absorb greater impact loads and resist tearing for long-lasting durability and lowest cost-per-ton conveyed.
High ultimate strength
CELESCO Belt withstands severe tension spikes at start-up, retains mechanical fasteners and withstands continuous flexing around pulleys. This higher ultimate strength makes a critical difference in abusive operating conditions.


Reduced stretch
The combination of fabric design and dip process provides less elastic and permanent elongation on all specifications. This minimizes take-up concerns and reduces the number of splices at break-in. Contact your local CELESCO Dealer to calculate permanent and elastic elongation requirements for your specific systems.
Standard bias step splices
A quick and effective technique; step splices greatly reduce downtime and are recognized throughout the industry as the standard. The vulcanized splice in our CELESCO belt retains 100% of belt tension rating during all running conditions.
Variety of cover compounds and cover gauges
Protect your product with the proper compound and cover gauge for the application. CELESCO has the flexibility to customize a belt to your application. Variety of fabric carcasses.
Choose from a selection of carcasses that provide outstanding strength, adhesion, impact absorption, and other properties. These include: Nylon/Nylon fabric carcasses up to 630 Kn and Polyester/Nylon fabric carcasses from 400. 1800 Kn.

CELESCO is the registered brand of C.L. Shah & Company. Most of these Belts are available off the shelf, and in a variety of rubber covers and carcasses. Special type of Conveyor belts are also constructed as per requirements of customers.